The Chicago Bulls' old championship banners during pregame introductions.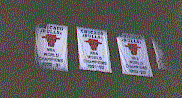 I'm a big sports nut - both playing and watching. My favorite sports (and teams) are college football (University of Illinois Fighting Illini), professional basketball (Chicago Bulls) and pro football (Chicago Bears), although I'll watch just about any team play any sport. Some of the rare exceptions are tennis and golf, which have to be about the most boring spectator sports in existence.

I got hooked on U of I football when I went to my first game at age eight. There is simply no other sport which can match the tradition and pageantry of college football, and especially the innumerable traditions of U of I football. Whether it's the dignity of Chief Illiniwek standing at midfield as the fans put their arms around each other and sing the Alma Mater, or listening to the bombs bursting in air after each score, nothing will ever match U of I football - unless, of course, the liberals succeed in banning both the Chief (who is obviously a disgrace to Indians) and the cheerleaders (who obviously are responsible for many of the rapes on campus by getting the guys too excited with those tight outfits). Starting with my first year in college, I went for about five years without missing a home game, including my second and third years in college when I was a member of the student cheering section called "Block I". Here are a bunch of pictures from U of I football games (including the band) over the years.

As for pro basketball, well, do the Chicago Bulls really need any explanation? I've been to about a dozen games, all but one of which were in the last four years, almost all of which were in courtside seats on the floor, and all but one of which the Bulls won (my streak finally ended at the second-to-last game I attended). I was at the game where Jordan scored his 20,000th career point. I was at the last game the Bulls played before Jordan returned. I was at the last game ever played at the Chicago Stadium before it was torn down, which was also the game where Charles Oakley dove for a loose ball and landed in a big heap on top of me (and I had an imprint of his shoe on my chest for several days to prove it), after which the crowd roared as I pretended to go after Oakley to pick a fight when I finally gathered myself up off the floor, much to the delight of the numerous photographers covering the playoff game, who snapped away as I cocked a fist. Bulls play-by-play announcer Tom Dore indirectly referred to me while the play developed by saying, "Rebound goes down to Oakley in the corner; did it go off of Charles Oakley, as he's in the second row of the stands here? And it's gonna belong to the Knicks as Oakley comes out; [at least] he's alright." I have a bunch of pictures from that game and many others.
---
This page is maintained by Jeffrey S. Curtis (curtis@anl.gov) Last updated 6/23/96