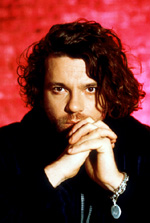 Michael Kelland Hutchence

January 22, 1960 - November 22, 1997

"I'm just a man; my will is so strong... when I've got plans, I close my eyes to the pain."

Tragic news flash: INXS lead singer Michael Hutchence was found dead in his hotel room in Sydney, Australia, on November 22, 1997. He apparently died of suicide. Michael was 37 years old.

For a far more complete guide to INXS and the tragedy surrounding Michael's death, please visit Neil Kothari's excellent web page, An Excess of INXS.
---
I started listening to INXS around 1985, and they've been my favorite group ever since. I've seen them in concert four times - the first time was during the X Factor tour at a stadium in Chicago. The second time was during the Dirty Honeymoon tour at a medium-sized club in Chicago, where at one point I actually got close enough to Michael Hutchence to be able to touch his hair and his left shoulder. Yes, I felt like a teeny-bopper. The third time was during the first Elegantly Wasted tour at another medium-sized club in Chicago. I was front and center - this show ruled beyond belief. Michael jumped out into our arms several times, and I met some way-cool INXSaries. The fourth time was at an outdoor concert at the UIC campus in Chicago.
I have every album INXS has ever done, except for when they were still known as the Farriss Brothers (1977 to 1979), tons of INXS posters, an INXS keychain, an INXS roadie pass from the Kick tour, stage pictures of INXS from some concert in the early 1980s, my membership card from the INXS fan club from many years ago, a CD of INXS radio clips (interviews, bumpers, etc.), and the picture-LP of New Sensation and Guns in the Sky mixes, with pictures of a knockout blonde on one side, and the band leaning on a car on the other. At one point, I even had INXS license plates on my car. In case you haven't figured it out, I'm really into INXS.
Yes, I'm into lots of other groups, too. In general, I'm into "classic rock" - Boston, Journey, Survivor, Foreigner, those types of bands. Under severe pressure, I'll also occasionally admit being in a disco phase, as well as liking some mild techno and other types of dance club music, although if I see that "Maximum Dance" commercial on MTV one more time, I might just have to go on that shooting rampage I keep talking about.
I've also become a big Fiona Apple fan. Her hit song "Shadowboxer" is hypnotic and mesmerizing; "Never is a Promise" is stirring, heartfelt and potent. The rest of her album Tidal is thoroughly powerful. Visit Fiona Apple's home page at Sony Music's WWW site when you're through browsing my pages for more info on Fiona.
---
This page is maintained by Jeffrey S. Curtis (curtis@anl.gov) Last updated 11/22/97